Client:
Jack Hurt
405 Newfound Harbor Dr.
Merritt Island, FL 32952
Honeycutt & Associates, Inc.
Design Team:
Rodney M. Honeycutt, P.E. (Principal)
G. W. McCulloch, P.E (Proj. Manager)
L.V. "Woody" Rice, P.E. (Project Eng.)
D. W. Wright, P.L.S. (Project Surveyor)
Description:
This 142± acre master planning area will include a 42± acre regional stormwater facilities serving the City of Cocoa and FDOT.
Current Phase:
Preliminary Planning
Conceptual Permitting
Completion Date:
Expected Early 2003
North Fiske Stormwater & Recreation Facility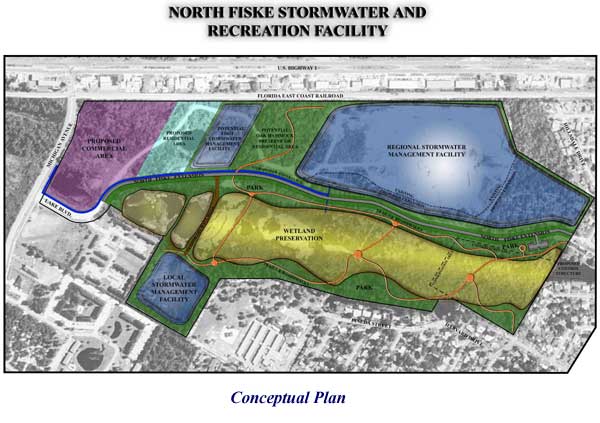 Civil Engineers
This site is in the preliminary planning and conceptual permitting phase. HAI has coordinate efforts to convert an existing borrow facility into a regional stormwater facility. The master plan includes a commercial area, residential area, oak hammock preserve, wetland preservation, recreational opportunities, regional and local stormwater management facilities, and a potential FDOT stormwater management facility for the widening of U.S.-1. The regional stormwater facility is approximately 33± acres and serves a basin that is approximately 142 acres in size. HAI has incorporated a local retrofit stormwater management pond (4.9± acres) and an FDOT stormwater facility (4± acres) into the conceptual plan.
The City of Cocoa requested the addition of a recreational component to the plan. The conceptual plan includes over 2 miles of trails, boardwalks, and recreational areas that meander from preserved wetland areas to a pristine oak hammock. The extension of North Fisk to Lake Blvd. Provides a vital connection for the community linking major collectors for the City of Cocoa.
The permitting logistics include coordination with the St. Johns River Water Management District (SJRWMD), United States Army Corp of Engineers (USACOE), the Florida Department of Transportation (FDOT), and the City of Cocoa.